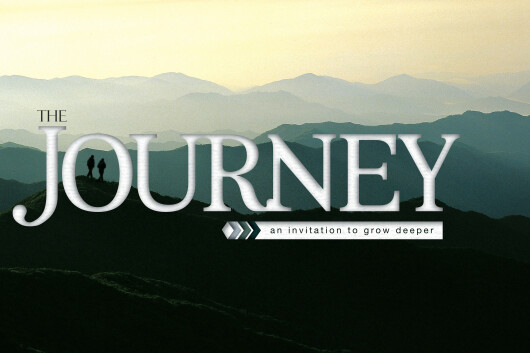 The Journey at New Hope begins in Janaury 2018!
An Invitation to Grow Deeper in your walk with Christ
Take "The Journey"
In the midst of all of life's activity, do you ever feel like you are just skimming the surface? Do you wonder if there is more to this life with Christ? That you have been called to something greater?
The Journey invites you to awaken to God's good work in and through you. Imagine the significant rewards that could result if you are brave enough to walk through a process that deepens and refreshes your life with Christ with a group of curious, motivated adults.
The Journey is a meaningful walk with others that explores the biggest questions of your faith: Who is God? Who am I? What does God desire to do through me?
How "The Journey" works:
The Journey group (usually 6-12 people) meets together weekly, guided by a trained facilitator who encourages accountability, safe relationships, thoughtful reflection, honest conversation, and prayer. The Journey is a commitment and the rewards can be significant.
Small group gatherings (two hours a week)
Walking together for six to eight months
Regular study, reflection, Bible reading, and prayer (two to four hours a week)
A spiritual mentoring relationship with a mature believer (twice a month)
How do I learn more about "The Journey"?
Visit The Journey website for more info and videos, CLICK HERE
"The Journey" at New Hope:
Jennifer will lead the group on Thursday nights from 7:00 to 9:00 PM
The session begins January 18 and will end November 1 with no meetings in June, July and August.
Program Cost:
The cost of materials for "The Journey" is $245.00 If you are participating in our 2018 group, please click HERE to pay on-line and select "Special Event"

The Journey Enrollment:
Would you like to enroll in The Journey? Click here for the class enrollment application.